Before we get to specifics, it is paramount to know that stagnancy is yet far to come in E-commerce. The Indian E-commerce market is expected to grow to US$ 188 billion by 2025 from US$ 46.2 billion as of 2020. By 2030, it is expected to reach US$ 350 billion. India's e-commerce market is expected to reach US$ 111 billion by 2024 and US$ 200 billion by 2026.
Dropshipping is a model of fulfilling orders through a third party vendor while white labelling and selling under your brand. We started Lightrance in July mid week and launched and started accepting orders on July 24th.
This blog dives into detail, documenting our journey for how we went ahead selecting our niche, product and its validation, finding vendor, branding, webstore, marketing & advertising and logistics.
Picking a product
Finding the right product to sell is always a huge challenge when you decide to start your own dropshipping business. As simple as it may sound, we believe that the right product is what gives a business the much-needed headstart to thrive in today's competitive business environment.
As young students with no prior experience in handling e-commerce businesses, we started off by scanning through pages and pages of IndiaMart, Alibaba, Udaan, and other B2B e-commerce marketplaces. While we did find a few products that looked good to go ahead with, our team wasn't totally convinced about taking it forward in the long term.
After a week-long effort, we shortlisted two products that excited us the most as a team:
Instant Water Heater
Smart LED Strip Lights
As a motivated team, we were extremely clear that we wanted to push our limits and sell products outside our college and family circle. The instant geyser, we felt, wouldn't have solved the purpose we were excited about.
The Wi-Fi-enabled lights, on the other hand, are a set of products that are still picking pace in India. We realized that there's no single and well-placed brand that specializes in smart lighting solutions at the moment, and that's how we decided to go ahead with Lightrance with a vision to be a one-stop solution for smart lighting in all shapes and sizes. We started off with a single SKU to test the waters.
To validate our idea, we looked at the prices of competing products on Amazon
We priced our product at INR 1,999 – extremely competitive as compared to the market competition on Amazon and other marketplaces. All of this was without working at scale initially and was achieved by procuring the three modules from different vendors at a competitive price.
As a strategic and marketing gesture, we enabled coupon codes to give discounts to repeat customers as well as for customers who bought from us locally (Saving us delivery costs and RTO risks).
Validation
While in the process of deciding how to optimise the processes of an already existing (yet dormant) business, we had to understand the consumer needs and motivations. So the logical first step was to conduct a survey, and understand not just the demographic profile of our potential customers but also their psychographic and behavioural needs. A consumer survey form was thus floated which had some interesting outcomes.
Much of these results resonate with what our initial thoughts had been. 
People's lifestyle now includes many recreational activities like music and dance, gaming, art and active sexual life, among other things. 
The aesthetic appeal of their spaces is of much value to people these days – they decorate and greatly personalise their spaces with objects like wall paintings, vintage decor, plants, and lights. 
Almost three-fourths of the respondents to the survey light up their spaces for purely utilitarian reasons – LED lights, study table lights, bulbs and such. Only a small percentage used fairy lights and smart LED lights. 
The majority of them didn't have lights that were 'smart' – syncing with music, compatible with Google Home and Amazon Alexa. 
Given a choice, people would be willing to try these lights. 
Product offerings similar to ours were selling for a premium price of around INR 4000.
Having zeroed down on the product (smart LED lights), we decided the best way forward would be to ensure – 
Enhanced consumer awareness about such an offering in India 
Pricing our product in a way that undercuts competition from online marketplaces.
Product Supplier:
Having figured out the product and validating it with consumer survey, our next big challenge was to finding our product supplier
We say this with experience, the hunt for product supplier was a sweat. To all those folks reading the blog, we advice you to ensure you have a trustworthy supplier before you make your investments into the operational aspect of business.
Our team initially thought that we'll be able to import products from China directly through Aliexpress, however that couldn't work out as per government restrictions in place for India. Thus we had to resort to finding a local supplier that was in close proximity to our registered business location.
After days of contacting over 50+ vendors in the niche, we were able to find the product with 5 of them. We met our product suppliers and made sure that they would be able to supply us the required demand for the products not just at that present time but in the future as well as and when required.
To lower down our product procurement cost we dis-assembled the product and procured the individual components separately and then re-assembled the components at our end. This assembly allowed us to take more control over the product quality as well as negotiating for better pricing with our vendors.
Having confidence in our product supply to be present, we know moved to the operational aspect of the business strategizing of how we would actually sell our products. The first task in the same being our branding.
Branding
The theme of the product and the color pallette was chosen to be in accordance with our positioning strategy.
We finalized on the following color scheme :

Our brand name Lightrance signifies the experience delivered with lighting. After over 20 variations of our logo, we settled around the minimal design logo which is a transitional amalgam of our color scheme and presents the brand name in a clear font. The font chosen was 'Gilroy' – A sans serif typeface.
The tagline for our brand being 'Light Up Your Space'. Our vision with the brand is to create experiential lighting solution which enhances your lifestyle activities.
For packaging, we white labelled our procured products, packaged them in compact boxes which not only fit according to the requirements of our product, but were volumetrically easy for transportation with our logistic partner.
We customized the thank you notes to give a sense of personal touch.
We focused on keeping the social media and our advertising materials to be real images, hence photography and videography was a prime focus for us.
Below is a screenshot from our instagram page: https://instagram.com/lightrance
Not just limiting to online media, the branding took to offline medium with our second medium of sales. Being in a hostel facility, we branded our studio apartment as an experiential centre and printed flyers which we distributed to the other cohort members in the building and put up on the billboard in the common area. The team members also put up the marketing flyers on their respective doors.
Webstore
Once we figured out the product and validated the product selected, set out our branding we moved to create our website which would later serve as a channel of sales.
When choosing amongst the platforms, we considered two options for our platform:
Shopify
Woocommerce
Before deciding upon which platform to choose we did a detail comparison for the features of both platforms: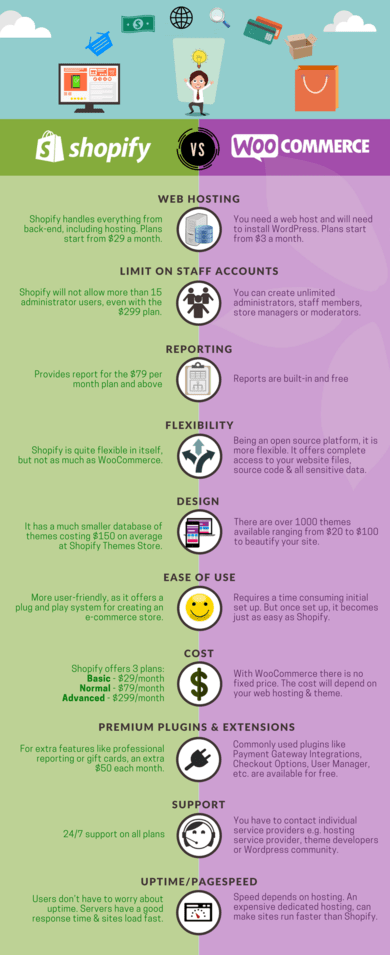 We chose WooCommerce as our platform. The reason narrowed down to:
A. Pricing: Shopify turned up as an expensive platform which would require us a lot more budget to operate not just in terms of platform fee but the plugins, themes and custom development. Further, we required optimizations in place. WordPress being an open source platform had technically no cost of operations involved. The only cost we were to incurr was the hosting and domain.
B. Technical Expertize: Having technical know how in our team, we knew how to design, customize and work with WordPress. For folks who are beginners, we recommend choosing Shopify instead for the ease of use, low technical knowledge required and convenience.
C. Shopping Experience: Plugin and theme customization is one thing that we focused upon. We were clear on what we were expecting from our store and for the same we do required an over-ride of functions. The same we find it easier to be done in WooCommerce rather than shopify.
For hosting, we tested three different hosting providers- Digital Ocean, Amazon AWS and Hostinger Cloud. We ended up taking the Hostinger's India Cloud Hosting plan which would offer us a low ping (with data server being in Mumbai) and high performance with 3GB Ram, 2CPU and unmetered bandwidth.
Setting Up Experience
Our goal was to maximize conversions on the webstore. To do so we realized 2 main aspects that required our attention:
The experience for the website should be such that there are as minimum steps as possible from the product to purchase. Eliminating the redundancy of a separate homepage for our store being a single product store, we redirected the homepage to product page.

Second pain point in the purchase process came the Cart to Checkout experience. Again, here we presented a fairly simple process integrating Cart, Shipping and Payment on a Single Page for Checkout.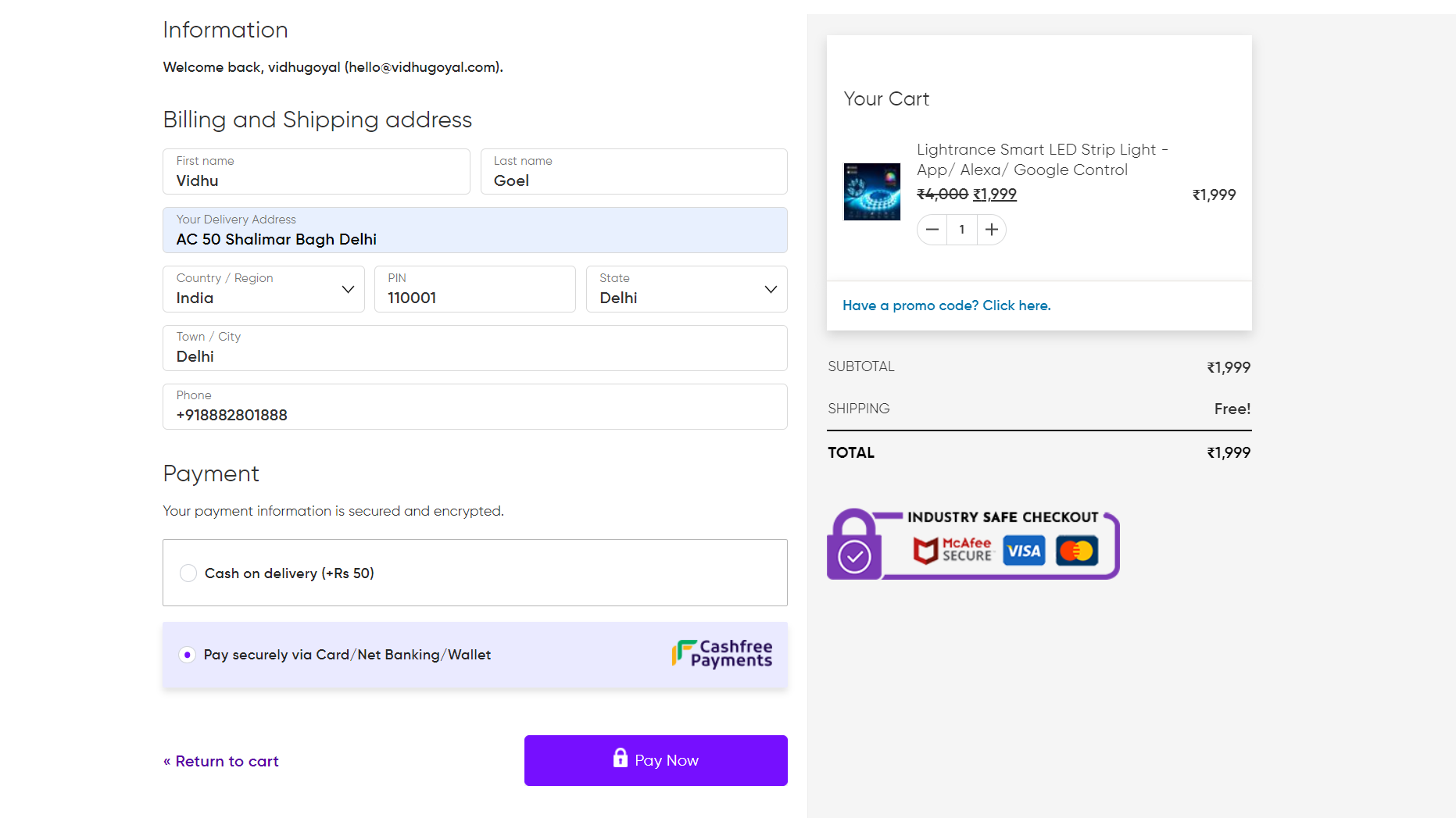 Creating mobile first experience:
One important ecommerce metric to consider is that approximately 85% of the traffic came from mobile. Hence it is paramount that the experience is created to be mobile fist. Not only is our site 100% responsive across different devices, the store is built reverse up implying the design was thought in such a way to be built for the mobile first and then for tablet and desktop.
For the mobile, we made sure the first fold of the product page clearly highlighted the product images, product description and the immediate scroll allowed for the price and buy now.
Scrolling down post 30% of the total page height, there would be a buy now button which pops up and sticks to the bottom of the screen. Adding the sticky Buy Now button increase user convenience to not scroll back and forth to the top for buying product and helped us achieve a better conversion rate.
Mini Cart: A cart icon opening up the cart model popup is always present on the header. This helps user in navigating easily across.
Logistics
Before moving to setting up and launching our ads, we had another issue in hand to be resolved. Even though in essence, dropshipping would imply to completely drop the fulfillment aspect, in our case the vendor shied away from fulfillment. Hence, we had to change our strategy and shift the business to semi procurement. We now placed a tab with our vendor to source small quantity of items as and when required and the same would be then shipped by us.
Since we were advertising throughout India, we knew that we would require a prominent vendor for our logistics. Also keeping in mind our hectic schedule, we wanted to ensure that the orders are picked up from our residence and directly delivered to the customer. We figured out that DTDC has an outlet in our residence M3M Urbana itself and this seemed to be a perfect fit for our requirement. We signed a contract with DTDC and started our delivery. They also gave us the option of cash on delivery. However, after 3 weeks, we have realized that DTDC has not been the most efficient in our case and each return order costs us a lot in terms of time and delivery charges (upto INR 300), we are looking at other alternatives to further improve the logistics.
Advertisement
We chose Facebook Ads for reaching out to potential customers. Why? Our product being an experiential one, required users to see our creatives to start the buying process. Further, there was a low search volume over Google.
We also focused on more on instagram in our campaigns for placement rather than facebook.
Mapping our Chosen target segment – Engaged online shoppers who are interested in gaming, music and/or romance & like home decor, we setup our detailed targeting. Ads were run Pan India, with the audience sizing estimation as below:
Ad Creatives:
https://youtube.com/shorts/sUKkhP2aYlY?feature=share
The above creatives were used in our Ads:
We setup Pixel on our website matching events for View Content, Add To Cart, Initiate Checkouts and Purchases with Purchases being the most important conversion metric to optimise for.
To optimize each step and increase our conversion rates, we continuously observed data and made changes to our website and Ad Campaigns.
The first week of advertising required us to run quite a few A/B tests and audience tests, to figure out the best audience to target.
For us, the placement of Instagram reels worked the best in Ads and later we specifically focused the campaigns for Reels and Stories finding our winning creative and audience targeting.
We were able to achieve a ROAS of 4.44, implying for every rupee we spent on our advertising, we were able to make INR 4.44 in revenue.
Learnings and future
Our product did well in the market and our strategy worked as expected. However, we had some key takeaways to account in for future:


RTO: In a dropshipping business, specially in India there are high chances of returns for COD orders. In our business itself this number was alarmingly close to 50% for customers who paid via COD, even though we incentivized Pre-Paid orders. To tackle this, in future we would be planning to introduce partial payments instead of COD.


Fulfillment: Talking about fulfillment itself, we would like to go back to our vendor and strike a deal for them fulfilling the order instead.


Try more campaigns: Even though we did well on our facebook ads campaigns, we did little on the organic online marketing. As an advice, you may focus on influencer marketing campaigns, SEO, email marketing, youtube, content marketing to reach out to your customers other than direct ads.


Customer Support: Being a smaller scale operation, handling customers was much easier. We remained on point with any customer enquiries whether be pre or post purchase.
Conclusion
The project has been an exciting journey and brought about sharp learnings while on the job. Struggling and moving along challenges has made us more aware of what to expect and what not to do for future operations of Lightrance.

If you are in start of your journey or looking to learn from our experience, feel free to ping us on: yours@lightrance.com